20th Annual Parker Bohn III Scholarship Tournament
July 30, 2019--The 20th Annual Parker Bohn III Junior Scholarship Tournament will be held on Saturday, August 31, 2019 at Howell Lanes in Howell, NJ. Over $10,000 was awarded last year, which added to a total of over $88,000 during the run of the tournament.

On Friday, August 30, an Eliminator Singles and Junior Doubles Tournament will be held as a warmup. The field is limited to 64 teams, and last year the event sold out.

The Main Event Entry and the Eliminator/Doubles Entry can be printed and used ON-SITE ONLY on 8/30 and 8/31.
Waiting...
by Dennis Hacker, Webmaster
February 3, 2015--It's been two years since the last time I had a chance to write about the possibility of adding yet another title to Parker's Hall of Fame total of 33, and it comes with another pretty good story. He has that ability to find himself in the middle of the unexpected.

For the first time in a number of years, the PBA went away from Detroit for the few winter events that they hold, and chose AMF Bowlero Lanes in Wauwatosa, Wisconsin as the venue. Two concurrent tournaments would be held from Monday-Friday, January 26-30: The PBA Players Championship (which used to be considered the PBA's 5th Major) and the return of the Mark Roth/Marshall Holman PBA Doubles Championship. The same games bowled would count for qualifying in both events; players simply had to enter the Doubles event in addition to entering the Player's Championship. Parker teamed up with fellow lefty Ryan Ciminelli (Cheektowaga, NY) against 37 other Doubles teams.

Qualifying for both events consisted of 8 games on Tuesday, January 27, and 4 more games Wednesday, January 28, until the cuts would be made--and after Tuesday's eight games, neither Parker or Ryan were sitting anywhere close to where they wanted to be. In the first round, Parker was only +102 for his eight games, including subpar games of 169 and 178 in Games 6-7. Ryan managed a few more pins, +112, and the team was in 35th of 38 places in the standings at a combined +214.

Tuesday night, the two of them sat down (wherever it is lefties sit down) and tried to come up a plan for the few games they had left on Wednesday morning. Both bowlers are with the Brunswick family, Parker throwing the Brunswick brand for years and Ryan representing DV8 on the lanes, so they understand the equipment choices they each have. From the way he described it, he tried most every ball he thought might work on Tuesday to amass that +102 total.

As a result, he decided to simplify things a bit for Wednesday, and brought in just a two-ball bag from the car, containing a Strike King and a Mastermind. He really hoped that the Strike King would give him the look that he wanted, and where he knew he could excel. If it didn't, he'd simply have to move right and use the stronger ball, and gut it out. It turns out, he was correct about the Strike King. Parker tossed games of 257-269-239-267 for a +231 total--just for those four games. Ryan added 987 (+187) for his four games, and the doubles team vaulted into 9th place, making the cut for match play by 24 pins. The bigger move was Parker's individual leap from 69th on Day 1 to 22nd on Day 2, and qualifying for match play in The PBA Players Championship by a narrow margin of five pins. For whatever reason, he doesn't like to do things the easy way.

The first round of Match Play was contested on Wednesday afternoon, a good thing for Parker as he was able to continue the momentum he discovered in the morning block. He went 5-1-2 in the 8-game block, and his resulting +881 total (with bonus pins) again propelled him into 4th Place for the tournament, and into a spot for the ESPN Finals--if he could hold on.

He drilled another Strike King for the Thursday morning block, hoping to overcome the oil that the one he had used all day Wednesday had picked up, and again, it was the right guess. He was able to move just a board deeper and had the look he wanted. However, his opponents had other ideas. Parker managed only three victories against five defeats in Round 2 of the Match Play, despite carding a 300 in Game 6. He ended up the block at +1304, but had dropped two spots and found himself in 6th place, ninety-eight pins out of the show with 8 games to go.

When he came back from the break on Thursday, it was time for more of what makes this story so great. In the first 7 games of the final block, Parker averaged 260.4, and went 6-0-1 for his matches. The tie, as it turns out, was huge. In Game 6, against reigning PBA Player of the Year Jason Belmonte, Parker was trying to protect a slim 40-pin lead over Belmonte himself in the standings. Lose the match, lose the pins, the bonus pins, and Belmo goes ahead of him. Jason strung the front nine strikes, and Parker had already opened the door in the 4th frame with a single pin. Belmo smashed a 7-pin on the first ball in the 10th, spared, and struck for his 279. Parker stepped up in the 10th and struck out for his own 279, and lost no ground to Belmonte in the standings. In fact, after a Game 7 win with a 238, he found himself in 2nd Place, going into the position round against one of the hottest bowlers on the tour right now, Ronnie Russell. But destiny was once again his, and Parker's 270-220 victory over Ronnie plus the bonus put him in the tournament lead.

It was a journey from a 68th place start, a gigantic leap to 22nd in four games, another huge rise to 4th in eight more, and then the determination to ascend to the top that has Parker waiting now for the ESPN taping on February 14, 2015 at Woodland Bowl in Indianapolis. Russell finished second, Belmonte third, and the first match that day will be Hall of Famer Norm Duke against Tom Daugherty. Mainly due to economics and logistics, three shows will be contested that weekend: The PBA Players Championship on Saturday, February 14th; the 50th Barbasol PBA Tournament of Champions on Sunday, February 15th; and finally, the Mark Roth/Marshall Holman PBA Doubles Championship on Sunday after the TOC.

You may be wondering how Parker and Ryan fared in the Doubles. After jumping up to 9th place on Wednesday morning, they fought as hard as they could in the match play but more often than not, found themselves on the short end of the matches. Eventually, they dropped one spot to 10th, and took home $3,500 for their efforts.

So now, we wait.




33 PBA Titles, and Add One Major!
by Dennis Hacker, Webmaster
January 13, 2013--At some point in a PBA veteran's career, especially a Hall of Fame career like Parker Bohn III's, the prosperity that he enjoyed for so many years starts to thin. After winning 18 titles over five consecutive seasons beginning in 1997, Parker went winless for two seasons before capturing just a single title in 2005, and then skipped another two years before he carded his 31st and 32nd career victories in Spartanburg, SC and Cheektowaga, NY in 2008.

The span of four years from his 2008 Cheetah Championship title to now is the longest gap since he began touring professionally in 1985. Subsequent to that, he made a TV show here and there, and even showed flashes of the old brilliance when he averaged 255-plus in a runner-up effort to fellow PBA Hall of Famer Norm Duke in the Dick Weber Playoffs last year. However, at age 49, he had to be wondering if his next real success would come as a baby Senior on the PBA50 Tour next July.

It turns out that Parker didn't have to wait that long after all, but no one can say they saw it coming. His hurdles to make each cut were high, and if you toss in a hurricane to complicate things, most would label it unlikely, if not impossible.

The qualifying for the PBA World Championship is an aggregate total from the four animal-pattern tournaments during the GEICO PBA World Series of Bowling. It's a good assumption, then, that some previous success during the week is necessary to make it into the field of 24 finalists for the World Championships.

Parker's first obstacle came in the persona of Sandy, the largest and second-costliest Atlantic hurricane on record. Parker's home is Jackson, New Jersey, only 20 miles from the devastation at the New Jersey shore. Without power at his own home, he wasn't about to go on the road and leave his family to fend for themselves. The first domino fell into place when they got electricity back only a few hours before his rescheduled flight would leave.

Because of the travel delay, he missed the practice session in Las Vegas. Being the veteran that he is, Parker pulled from his years of experience, and harnessed the ability to put behind him the week's tests when the lights came on. However, the challenges weren't done.

The first qualifying event was the Alka Seltzer Plus Cold Cheetah Championship, where he placed 34th. Parker is usually pretty strong on the Cheetah pattern, which might actually be an advantage, since he wasn't able to practice before the week started. Again, drawing on experience, he averaged 238 and missed the finals by only 38 pins.

Next was the WSOB Viper Championship, and he didn't fare as well. Parker finished 47th on Viper, and his deficit was 91 pins from the number needed to make the Top 16. However, since the qualifying line for the World Championship rested at 24th place, he was still in the hunt.

The third day brought Chameleon, another of the tougher patterns for Parker at the SouthPoint Bowling Center. He posted an additional deficit of 81 pins to the tournament finals. Even though he was still in play for the Top 24 overall, the shortage each day was growing, and there was only one day left.

The final animal pattern would be contested in the Bowlers Journal PBA Scorpion Championship. Again, Parker would miss the Top 16 cut needed to make a tournament finals. His 25th place finish average of 226.88 left him 36 pins shy. However, this qualifying round was not without drama. Being on B Squad, he knew what he ultimately needed to make it into the Round of 24 in the PBA World Championships, and it came down to the 10th frame in Game 8. Parker needed a double, and got them both, with enough count to make it into the Top 24 by only 3 pins over Craig LeMond of Jasper, IN.

Grateful to make it to the match-play finals, Parker's years of experience once again came into play. In the "old days", he knew that when bonus pins are up for grabs, twenty-four games is a lot of bowling, and he had an opportunity to make up some ground. PBA veterans to this day relish the longer formats, because it tests both talent and durability. They called it the "long haul." Even without making TV, there were still thousands of dollars available for moving up in the standings.

In the first eight games, Parker went 4-3-1, seemingly mediocre, but it was good enough to jump him to 17th in the standings. Using a 6-2 record in the second eight games, he jumped another six spots to 11th, and put himself only 103 pins from the show when he started at a 279-pin deficit.

Facing his final 8 games of the 2012 World Series of Bowling, this story couldn't end without at least one more dramatic finish—and it didn't. After 55 games of qualifying and another 5-2 record in match play, Parker found himself in 3rd place, 38 pins ahead of 6th place Rhino Page. A position round match with 4th Place Dan MacLelland is all that was between him and a miraculous ascent to the TV show from 24th place.

Parker struggled with carry during his match with MacLelland, and looking around, he saw Page demolish 5th Place Wes Malott with a 257 score. Add into that Tommy Jones' victory against Pete Weber 268-236, and all of a sudden two bowlers behind him made up tremendous ground. He knew he was going to lose his match to MacLelland, but Parker stepped up on the approach in the 10th frame, once again needing to perform in the clutch. Nearly 30 years of experience of competing at the highest level didn't let him down, and he nailed the single strike in the 10th that would allow him a nine-pin margin over Jones, and to qualify 5th, destined for ESPN.

Such a series of events would seemingly have to come to an end sometime, and honestly, clearing that second hurdle and making the TV Show could easily have been a letdown. Little did any of us know what we still had ahead?

Logistics had Parker waiting around for a couple of days. Before he'd take the lanes to see how he would finish this whirlwind week, the TV Finals of each of the four animal pattern tournaments would be contested. Even though they were taped over the course of two days, any thought of continuing momentum was out the door. Another hurdle—especially since Parker wasn't in any of the TV Finals for any of the previous tournaments.

Although I knew the result of the tournament, I waited to finish this article until today, January 13, 2013. You have to watch the events to experience the true impact of the show.

In Match 1 against 4th Qualifier Dan MacLelland, Parker stepped up looking like he looked a long time ago. He'd been here before, but for anyone who knows him, there was some emotion evident from the time he was introduced. I think he knew already what it meant to be there, and when he had nothing else to think about, it consumed his thoughts. Being the professional that he is, those thoughts went away when it was time to compete, and he defeated MacLelland 226-218.

Randy Pedersen noted immediately in Match 2 that it would be interesting to see how the lanes transition with two southpaws competing. Rhino Page had made the move from 6th to 3rd in that final position round, and played a line that was further left and more movement than his opponent. Parker struggled early in the match, filling three frames with spares while Rhino started with a double. A bad decision in the 3rd left Page with a five-count split and a total miss on the spare shot—and he never recovered. It would ultimately be a missed 7-pin in the 8th frame by Page that would seal the match. Parker fought as well, but finished strong with a 200-170 triumph, and the key to this victory would play well into the next match.

He'd have his hands full with the next two opponents, but I'm sure Parker was feeling blessed at this point to still be alive in the tournament. Reigning PBA Player of the Year Sean Rash was next in line, and he would post two spares before stringing five strikes in a row to start the game. Parker, however, learned something about the right lane at the end of the previous game, and bested Rash with seven strikes in that same stretch—albeit with a little help in the 7th, which Parker said was crucial. "The biggest key was going through the nose in the seventh frame against (Rash). A pin rolls out of nowhere, takes out the 4-7, and I get a strike." The streak would end in the 8th with a 3-pin, but he'd finish the rest of the way, and defeat Rash 278-231.

Bowling for only his second major in a career full of 32 titles, Parker found himself against Jason Belmonte, one of the PBA's most prolific bowlers in the last three years. Belmonte, whose ultimate goal was to win his first major at this year's WSOB, would keep Parker on the ropes through six frames, the first to hold a lead that far all day. As unbelievable as it may be, a half ten in the 7th frame by Belmonte gave Parker the opening he needed, and he promptly took the control, never looking back. The final winning score would be 254-227, and another entry was in the PBA History Books.

Back in the day, Mike Durbin did a segment on the Senior PBA Broadcasts called "Winning Never Gets Old." As cute as the segment title may be, the truth of it is apparent when you consider that Parker is only 70 days shy of being the oldest player ever to win a PBA World Championship (Tom Baker was 49 years, 192 days when he won in 2004). He's only the 15th player in PBA history to qualify 24th and win a tournament—and when you narrow that down to majors, he's the third. It's been 27 years since it last happened, and the PBA's most successful champion, Walter Ray Williams, Jr. was the last to accomplish that feat. When reality says that so many talented players come and go, to be out there and competing long enough to accomplish any of these things is a testament of itself.

To culminate this article, I just finished watching the show—and I challenge any PBA fan who has followed the tour for any length of time at all to finish this show without tears in your eyes. I'm a few years older than Parker, and although my abilities and successes never ever rose to his level, I know what it feels like to experience success when younger and have it elude me as I age. Obviously, as a PBA fan, I knew who Parker was long ago, but I've been lucky to call him and Leslie friends for over 14 years, and to have been writing for his website since then. I've been personally involved for 23 of his 33 titles. I saw some shots today on ESPN that reminded me of the consummate professional I remember from the first few years, and it was enjoyable for me to watch him run out the shots like a younger Parker.

My guess is, for a couple of weeks—it almost felt like he was.



Striking Out Sandy to Help NJ Hurricane Victims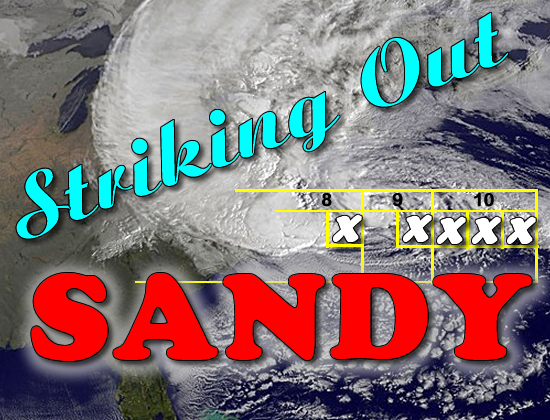 November 4, 2012--Living only 20 minutes from the New Jersey shore, Parker and his family know first hand the destruction left in the wake of the recent Hurricane Sandy. Many people are displaced from their homes close to the shore, and thousands more are still living without power in the area. New Jersey will simply never be the same again.
Parker has decided to help the cause with his "Striking Out Sandy" program, and asks for your help as well. You can make a flat donation, or you can pledge a set amount for every strike he throws at the GEICO World Series of Bowling, running from November 2-7, 2012, in Las Vegas, NV. Make your pledge by visiting Parker's Facebook page, or by emailing Leslie. Once the World Series is complete, we'll provide ways to pay, including PayPal.
Fields, Orensky Take Top Honors at Parker's 2011 Junior Scholarship Tournament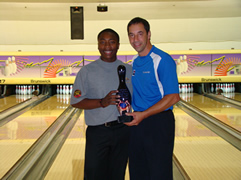 September 04, 2011--Diante Fields of Mt. Royal, NJ, and Sara Orensky of Freehold, NJ won the Scratch and Handicap Divisions of the 12th Annual Parker Bohn III Junior Scholarship Tournament.
Held each year at Howell Lanes in Howell, NJ, Parker's Junior Scholarship Tournament has awarded over $50,000 in scholarship funds to junior bowlers, and provides competition for young bowlers of all abilities.
Fields, who qualified 2nd in the Scratch Division after 6 games emerged from the five-game round-robin Match Play in the lead, and waited for the other qualifiers to battle it out before winning the final match of the Stepladder Finals over Ross Whitehead of Walden, NY. He has $1,000 to his credit towards his further education, with Whitehead credited with $500.
Orensky also led the field on the Handicap side, narrowly edging out Justin Bohn by four pins. She maintained her stronghold on First Place during the five-game round-robin, and also won her final match over Ambrose Shirk of Fredricksburg, PA, 138-112. Sara has $750 in her scholarship account as a result.
Qualifying results for the Handicap and Scratch divisions can be viewed by clicking the division name, and the finals are here.
Parker Bohn III Receives BPAA's Dick Weber Bowling Ambassador Award
June 27, 2011--PBA Hall of Famer Parker Bohn III joined a short list of outstanding individuals who have been named recipients of the Bowling Proprietors' Association of America Dick Weber Bowling Ambassador Award during BPAA's annual meeting in Grapevine, Texas, on June 27.
Bohn's contributions to the sport, on and off the lanes, exemplify the contributions made by the late bowling legend.
"Receiving this award will go among the best achievements of my career," Bohn said. "When I think of Dick Weber, I think of a class act, an honorable, true gentleman and a great ambassador for our sport."
Parker Helps Jeff Gordon Honor Cancer Survivors from Riley Hospital for Children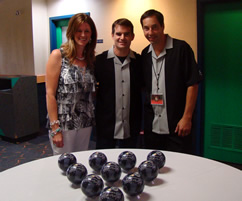 INDIANAPOLIS, IN (July 28, 2011) – Jeff Gordon Children's Foundation celebrated 10 years of support for Riley Hospital for Children during a news conference in the hospital's atrium this afternoon. The four-time NASCAR Cup Series champion was joined by 10 Riley Hospital cancer survivors from each of the years the bowling tournament has been held and by 7-year-old Emily Hampton of Simi Valley, Calif., whose life was saved because of research led by Riley physicians. Read more.
Scholarship Tournament Sponsors
Please support the sponsors that bring you this tournament!
---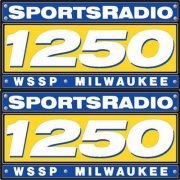 Listen to Parker's Interview on Spare Time Bowling Show
March 18, 2012--Listen to this week's edition of the Spare Time Bowling Show from Milwaukee, featuring Parker and Brunswick Tour Rep Chuck Gardner. Click the link here.
---
Listen to Above180.com Radio Interview from Bowl Expo
Parker did a radio interview at Bowl Expo with the folks from Above180.com. You can listen here.
---
Parker WINS Monmouth County Masters Tournament
AlphaMax Rolls him to Victory!
February 27, 2011--Although the PBA was on TV Sunday determining the champion of the US Open, Parker was competing in his local Monmouth County Masters tournament.The tournament got underway with a 3 game qualifier, then the field was cut.  An additional 3 games rolled for a 6 game total taking the top 15 plus the defending champion to Sunday.  Parker defeated Rusty Thomsen for the title.  Great way to end the week!  PB3 is on a roll...